WHAT IS UV(ULTRAVOILET)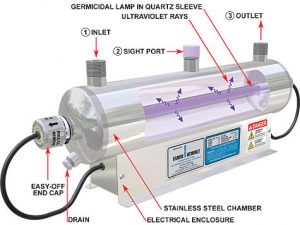 Home Pure harnesses the brilliant power of ultraviolet light to make water safe to drink. It's the same technology used by leading bottled water manufacturers in the U.S., Europe and Asia to purify water.
Home products use ultraviolet (UV) light technology to purify water, destroying more than 99.9 percent of bacteria, viruses and protozoan cysts such as giardia and cryptosporidia.
The method has now been used for over one hundred years, and is currently used to purify drinking water by leading bottled water manufacturers to purify their source water.
The EPA (environment protection agency) officially recognized the use of ultra- violet as a proven, viable technology in 1996: "Ultraviolet (UV) radiation has been found to be an effective disinfectant…. a useful small systems disinfection technology option." UV purification works as the ultraviolet energy emitted by the light is absorbed by the cells of the microbe, preventing cell enzymes from 'reading' its DNA. Without intact DNA, microbes can't reproduce to make you sick. The process is simple but effective, destroying over 99.9 percent of harmful microorganisms.
Purifying water with UV light offers many advantages. In addition to being safe and effective, UV light does not alter the taste, pH, or other properties of the water, and works without the introduction of chemicals to the water.